2023 Excellence Awards WINNERS
CBIE honours the recipients of our Excellence Awards during the annual conference. Developed by the Board of Directors, the Excellence Awards Program recognizes outstanding achievement in the field of international education in a range of specialties.
Western Heads East
Western University
Western Heads East is a collaboration between Western University staff, students, faculty and African partners using probiotic food and social enterprise to contribute to health and sustainable development. Established in 2002 to help address HIV/AIDS, the program has provided more than 160 students with meaningful global learning internships.
Centred on the production and distribution of probiotic yogurt developed by Western researchers, Western Heads East has grown into a social enterprise network, helping to address health and social issues. The yogurt builds immune response, removes toxins, and improves maternal health, digestion and nutrition. Women's groups own and operate over 260 community kitchens, employing 1,000 women and youth while serving over 280,000 people. What's more, the women-centred, probiotic food network builds skills and awareness while helping to address social issues such as gender-based violence, reproductive health, and education.
Bob Gough, Maimuna Kanyamala, Gregor Reid (pictured) and the entire Western Heads East Management Committee have been instrumental in developing this unique international program that combines partnership, research, critical and ethical global engagement, and global experiential learning. Other team members include: Western Heads East Program Coordinator, Maria Rodriguez, Professor Nicole Haggerty, Ruta Lawrence, Professor Sharareh Hekmat, and Lise Laporte, Senior Director, Western International.
Western Heads East has made outstanding contributions to teaching, research and service, with wide-ranging impact in East Africa and Canada. Their dedication to this endeavor has cultivated a legacy of positive change.
Equity, Diversity, and Inclusion (EDI) Award
Patricia "Trish" Coles
Centennial College

Patricia "Trish" Coles has been nominated for this award for her commitment to equity and inclusion. She has played a pivotal role in guiding a group of Afghan women on their path to higher education and professional reintegration.
Trish's journey began when she recognized the challenges faced by Afghan women who had been forced to flee their homes due to the resurgence of the Taliban. These resilient women aspired to pursue master's programs in Ontario but found themselves with limited resources and support. But Trish refused to let their dreams be lost.
Understanding the urgency of language proficiency for accessing higher education, Trish secured language classes for these women. Overcoming their refugee status and financial constraints, Trish worked to ensure that financial barriers would not hinder their journey. Together with the Canadian Chapter of the International Association of Women Judges, she harnessed their collective knowledge and influence to navigate the complexities of the higher education system.
Trish's advocacy and diligence were the driving forces behind this initiative. She recognized these women's obstacles, worked tirelessly as their champion, and eliminated barriers to higher education. Trish's efforts opened doors that were once perceived as firmed shut.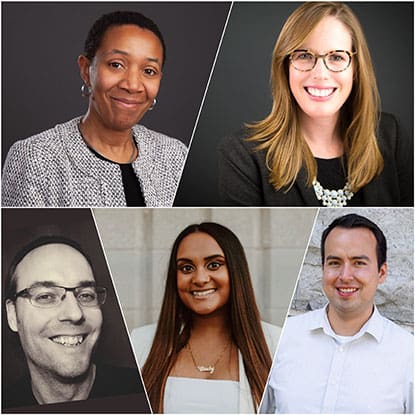 Equity, Diversity and Inclusion (EDI) Award
The Decolonizing Global Engagement Module Team
Queen's University
The Decolonizing Global Engagement Module exemplifies the future of mobility pre-departure programming; it goes beyond standard orientation conversations.
The idea for the Decolonizing Global Engagement Module was envisioned at Queen's University by Stephanie Simpson, Vice-Principal of Culture, Equity, and Inclusion, with collaborative content guided under the direction of Dr. Erin Clow, Associate Director of Education and Learning, with support from Nirosha Balakumar, Justin Makasoff, Aaron St. Pierre, staff from the Office of the Vice-Provost, Global Engagement, and funding from the Global Skills Opportunity.
The team recognized that students often do not have the tools to critically engage with complex and intersectional global inequities. To remedy this, the module includes reflections on the colonial roots in Global Engagement, moving students to a place of learning where they can build their skills around cultural humility and navigating systems of oppression.
This module project was implemented to draw a connection between global citizenship education abroad and global citizenship practice at home. The important innovation of this module centres on the reflection on students' own positionality before traveling and encourages them to consider the role of Canada as a colonial power as part of their preparation to engage with people and cultures across the world.
These elements challenge perceptions of student mobility as simply a fun, expensive activity for wealthy students, whilst simultaneously helping to foster a more inclusive student body at Queen's and at the partner universities where our student ambassadors will travel.
The Decolonizing Global Engagement Module has had an impact throughout the University as it is open to students in all faculties, whether they be studying, volunteering or interning abroad, or even traveling to a conference outside of our home community.
Canada-Ukraine Model UN Project Student Group
MacEwan University
The students of the Canada-Ukraine Model United Nations project were nominated for this award because of their outstanding leadership skills and their global citizenship that has fostered intercultural understanding. Their version of international relations based on trust and equality gives us hope for a better future.
The project played a pivotal role in enhancing internationalization on three university campuses – Ukraine's National University Kyiv Mohyla Academy (NaUKMA), Ukrainian Catholic University (UCU), and Canada's MacEwan University, fostering a vibrant atmosphere of global cooperation and understanding, and promoting cultural awareness. Through their participation, the students from various backgrounds and nationalities came together, exchange ideas, and collaborate on complex international issues. As a result, the club created more inclusive and diverse campus environments, enriching the educational experience for all students and fostering a sense of global citizenship that extended far beyond the university walls.
The work that this group of students started and sustained has enabled Ukrainian students to travel to conferences around the world and offered a reprieve from war-time conditions while emphasizing the value of international diplomacy and multilateralism in an uncertain world.
Reconciliation and Internationalization Award
Office of Indigenous Education and Office of Global Engagement
North Island College

As Sara Child describes, "The struggle of Indigenous people to have our land, territory, languages, culture, ways of knowing and being reclaimed, and our history recognized is a global struggle that has been going on for generations. Is it not time to put an end to mere conversations, ramp up our efforts, and demonstrate a commitment to action?"
The vision of weaving Indigenization with international education is rooted in North Island College's collective commitment to become a truly Indigenous-serving institution toward a future reimagined for the well-being of this generation and those yet to come. Their goal, as outlined in the Journeying Together Plan, is to leave a legacy of hope that aligns with the beliefs and aspirations of the Indigenous people and the communities they serve.
They are considering a future where Indigenous equity exists in the full sense of the word across the academy and throughout our global society. By working together with Indigenous communities and attracting new Indigenous partners from around the world, they will focus the conversation and help us to chart our way forward globally for this vitally important journey.
Sylvain St-Amand
Université du Québec à Montréal (UQAM)

Sylvain St-Amand has more than 30 years of professional experience in the international education sector at three universities. He spent 15 years at McGill University as the Executive Director of the Centre for International Management Studies, 13 years at the Université du Québec à Montréal (UQAM) as the Director of International Relations, and 3 years in Europe at the Université du Luxembourg, also as the Director of International Relations.
Over these three decades, he also found time to be a professor at UQAM's École des sciences de la gestion and a visiting professor of intercultural collaboration at Fuzhou University in China. His professional career has given him a unique understanding of the process of internationalisation of universities, a process that continues to evolve and challenge higher education institutions around the world.
In addition to his professional career in academia, Sylvain was a member of CBIE's Board of Directors from 2013 to 2019 and has co-hosted numerous CBIE national conferences. He is also involved in a number of organisations and groups closely linked to the international education sector, including the Groupe des Responsables de Relations Internationales Francophones (GRIFF), of which he is a founding member.
Finally, Sylvain is a great unifier, well known to his counterparts around the world. His extraordinary leadership in the internationalization of Canadian education has made him a great ambassador for Canada.