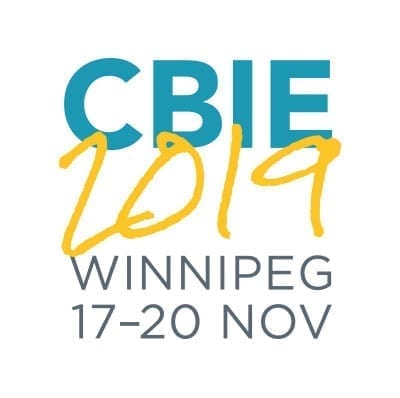 Accommodations and Travel

Delta Hotels Winnipeg by Marriott
350 St Mary Avenue, Winnipeg, MB, R3C 3J2
Room Rates:
Standard Queen Room – $172.00
Standard King Room – $172.00
Bi Level Deluxe – $172.00
Deluxe King – $212.00
Club King – $257.00
Group rates available until Friday, October 25.

All prices are in Canadian dollars. Applicable local and accommodation taxes apply. Rates are based on Single/Double occupancy. For additional guests, a charge of $15.00 per night up to a maximum of 4 people per room will be applied.
To Book:
Room reservations are to be made by individual attendees directly with Marriott reservations at 1-844-294-7309 by quoting CBIE, or via the group reservation link.
Come Early, Stay Late:
Rates are available three dates prior and three days after the event, subject to availability.
Key Amenities:
Delta Hotels Winnipeg offers free high-speed Wi-Fi, wall mounted TVs and large ergonomic desks.  In the main lobby, enjoy a coffee or snack from the Urban Bean or hearty meal at Blaze Restaurant & Lounge. Delta Hotels Winnipeg also offers 24/7 room service, access to their Odyssey Fitness Center, an indoor pool and is a pet friendly hotel.
For further details on room specific amenities, visit their website.
CBIE 2019 Conference Flight Codes
Air Canada
Please book online at aircanada.com and enter your promotion code in the search panel.
Promotion code: NKBWAH41
Discounts within Canada include 10% off of Business/Signature Class (flexible), and 5% off of  Business/Signature class (lowest). A discount of 10% off Premium economy (flexible/lowest), Latitude, Comfort, and Flex fares. No applicable discounts on Standard and Basic fare within Canada. For international rates, please visit the Air Canada website Exclusive Reduced Rates.
Valid for travel between Saturday, November 9 – Wednesday, November 27, 2019.

Only bookings made to Winnipeg (YWG) are eligible for the discount. Bookings originating in Winnipeg are not eligible.
No discount will apply to Tango bookings for travel within Canada or between Canada and the U.S. For international travel (destinations outside North America), discounts apply to all fares including Tango.
WestJet
Please book online at https://westjet.com/conventions
Online Code: W63AQ34
Travel Agent Promo Code: WDD65
Flights within Canada
5% off Econo* and 10% off EconoFlex and Premium fares for travel into and out of Winnipeg.

Transborder flights
2% off Econo*, 5% off EconoFlex and 10% off Premium base fares for guests traveling Trans-border** into and out of Winnipeg.
Valid for Travel between November 10 – November 27, 2019.
*Basic fare class is excluded from discount.
Discount codes are valid for travel on the dates indicated. Percentage discount is applied to base fare. Taxes, fees and charges are extra.