Intersecting Paths: Immigration and Institutional Policies from a Managerial Perspective
Sunday, Nov. 19, 2017 | 1:00 – 4:30 PM | Halifax World Trade and Convention Centre, NS
$275 member | $325 non-member
Please note online registration is now closed but registration is still available onsite. To reserve a seat contact Melissa Payne at mpayne@cbie.ca
In this workshop, learn about pertinent Canadian immigration law as it relates to decision-making, advocacy, and risk management in cases where institutional and immigration policies converge. In small groups, participants will review relevant case studies and provide an analysis of various factors that need to be considered from an institutional perspective. Participants will take away a detailed outline of key considerations for institutions wishing to host international students in a variety of settings.
Who should take this course?* This course is geared towards professionals in leadership positions, including but not limited to, Seniors ISAs, Managers, Directors, etc. A general or exploratory knowledge of immigration regulations is welcomed, but not required.
* Please note this is geared towards participants in leadership roles. ISA's should look at the workshop "Immigration Law and Policy in Practice."
Language course is delivered: English.
Fee: $275 member | $325 non-member
Fee includes: Course materials, coffee/tea and light snacks.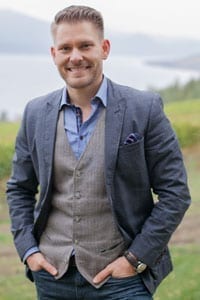 Philipp Reichert, RCIC and Coordinator of Immigration Advising Services, The University of British Columbia, Okanagan Campus
Philipp Reichert is an RCIC and the Coordinator of Immigration Advising Services at UBC's Okanagan campus. Philipp has over 10 years' experience studying and working internationally, most recently at the Rotterdam School of Management (RSM), with their International and Executive MBA programmes and the Hague Centre for Strategic Studies (HCSS) in the Netherlands.
He is a NUFFIC Huygens scholar and received his Master's degree with honours in International Relations from the University of Leiden in the Netherlands, and has attended educational institutions in Canada, USA, and Germany. Currently he is completing his doctoral studies at the University of Calgary with his research focusing on the internationalization of higher education and the nexus of government policy, institutional programming, and international student career transitions. In addition to his professional role at UBC, Philipp is an instructor of the Canadian Bureau for International Education's (CBIE) International Students and Immigration Education Program (ISIEP) and is the 2016 winner of the CBIE North Star Award.
Rohene Bouajram, RCIC and Manager, International Student Advising, The University of British Columbia
Rohene Bouajram is a Manager, International Student Advising and RCIC at The University of British Columbia. With over a decade of experience working in international education at different educational institutions, she has experience with managing diverse teams, study abroad programming, international and domestic recruitment, providing advisory services and coordinating intercultural and transition support programs for students. Her MA thesis in Intercultural and International Communication focused on the post-graduation experiences of international students allows her to compliment the many professional roles she has held with research.
As an avid volunteer, she sat on the Executive Board of the Society of Intercultural Education, Training and Research (SIETAR) in BC and coordinated the first Congress program in June 2014 on 'Shaping Identity: Land, People, Systems' in Vancouver and on Sts'ailes First Nations territory. Rohene's passion for intercultural communication often leads her to dive headfirst into opportunities to engage ethically and authentically in intercultural settings.